Input stream for midi_decode() More...
#include <decoder.h>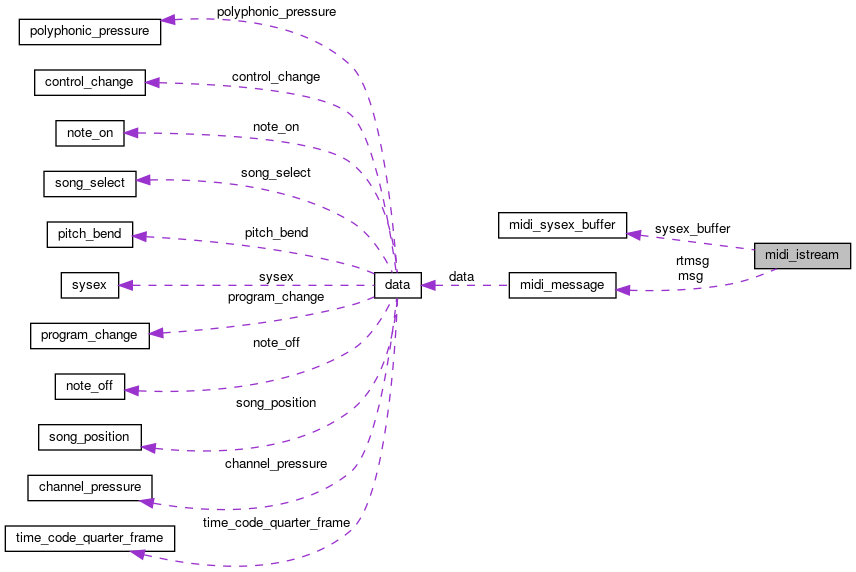 [legend]
Input stream for midi_decode()
Read callback read_cb() and stream capacity must be provided by the user. If SysEx decoding is required, it is necessary to provide a buffer in sysex_buffer. It is possible to use midi_istream_from_buffer() to create a stream which reads from a buffer.
◆ read_cb
size_t(* read_cb) (struct midi_istream *stream, void *data, size_t size)
Pointer to a user-implemented read callback.
The callback should read the exact number of bytes requested.
Parameters

| | | |
| --- | --- | --- |
| | stream | Pointer to associated midi_istream |
| [out] | data | Data read |
| | size | Number of bytes to be read |
Returns

The number of bytes actually read
◆ capacity
◆ msg
◆ rtmsg
◆ sysex_buffer
Buffer for SysEx messages decoding.
◆ bytes_left
Number of bytes remaining to complete the current message (handled internally).
◆ param
---
The documentation for this struct was generated from the following file: